Legislative Resources
Here are a few recent bills that directly impact the real estate business. Please refer to these guides to help you learn about the new legislation and how to implement the changes. For more information on Oregon REALTORS® legislation issues contact the Government Affairs team at info@oregonrealtors.org.
---
Who represents me in Oregon?
Are you interested in helping advocate for homeownership? Text "REALTORS" to 30644!
---
Real Estate Transfer Taxes – January 29, 2020
Additional taxes imposed on current and future homeowners will only make our housing crisis worse and will further drive the dream of homeownership out of reach for Oregonians. Oregon REALTORS® has been supportive of numerous affordable housing funding mechanisms, including a document recording fee. Oregon REALTORS® will continue to support general fund and bonding requests for affordable housing preservation and construction. In addition, the Oregon REALTORS® HOME Foundation will continue to build on the over $1.7 million donated to organizations that create, expand, and encourage homeownership opportunities for Oregonians at or below local median income.
Why did Realtors® support the passage of Measure 79?
Voting "YES" on Measure 79 stopped governments from being able to impose real estate transfer taxes on homes.  These taxes are an additional tax that is charged each and every time property is sold or transferred.  Voting "YES" is the only way to truly ensure that governments will not impose double taxes on homes.
---
Senate Bill 608
SB 608 ends no-cause evictions and limits annual rent increases to 7% + CPI after the first year of occupancy. It was signed by the Governor and took effect on February 28, 2019. Oregon REALTORS® opposed the bill, but it sailed through both Chambers with no opportunity to amend and only perfunctory hearings. One of the most challenging parts of the law for REALTORS® and prospective homeowners is the requirement that a tenant be given 90 days' notice when a home is sold to a buyer who intends to occupy as a primary residence. For your reference, please see summary below.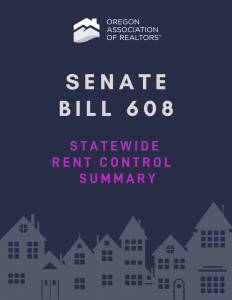 ---
House Bill 3427
It was inevitable that some large business tax increase would pass in the 2019 legislative session to fund the priorities of the Joint Committee on Student Success, which crisscrossed the state in 2018 talking with students, teachers and parents about needed investments to boost Oregon's high school graduation rates. Legislators landed on a $1 billion per year ($2 billion per budget cycle) package that included a tax of .57% on business gross receipts over $1M, with a 35% deduction for either labor costs or cost of goods sold. The package also included minor reductions in personal income taxes. Facing the reality that a new business tax would pass, Oregon REALTORS® worked with key legislators to ensure that only the value of commissions (not value of home sales) would be taxed and that REALTOR® commissions would only be taxed at the REALTOR® level rather than at the brokerage level or at both levels. As a result, the tax will only apply to REALTORS® who have more than $1M in commissions and to brokerages that have more than $1M in revenues after distributing broker commissions. For your reference, please see Fact Sheet below.
---
The REALTOR® Party
We are the REALTOR® Party: An energized movement of real estate professionals fighting to keep the dream of homeownership alive throughout the country. Take time to learn more about the REALTOR® Party at the national level.
Now, more than ever, it is critical for REALTORS® across America to come together and speak with one voice about the stability a sound and dynamic real estate market brings to our communities. At the local, state, and federal level, our elected officials are making decisions that have a tremendous impact on the bottom line of REALTORS® and the housing market.
In Oregon, the REALTOR® Party program is used to assist local boards and associations in implementing grassroots advocacy campaigns that support the values and priorities of REALTORS®. Local boards and associations can request financial assistance to support or oppose local ordinances or use the fund for other types of issue campaigns to influence public policy. The program is not used to support candidates for any political office, as this is the function of the REALTOR® PAC.
Download printable investment cards for distribution at your office or event.
To request funds locally, please contact the Oregon REALTORS® Public Policy Department at (503) 362-3645 (Salem) or (800) 252-9115 (Toll Free).
FAQ
Why is Oregon REALTORS® involved in politics?
The Oregon REALTORS® is involved in politics to safeguard your business and help protect the American dream of homeownership. Through actively engaging in the legislative process, REALTORS® are able to protect private property rights and maintain housing affordability.
What legislation are we tracking?
The Oregon REALTORS®, through the Government Affairs Key Committee, actively tracks legislation relating to business and real estate taxation, distressed properties and foreclosures, economic development and housing affordability, land use planning, private property rights, and real estate license law. See current legislation.
What is Oregon REALTORS® advocating and why?
The Oregon REALTORS® Public Policy Department advocates before the Oregon Legislature and state regulatory agencies to support legislation and regulations that strengthen housing affordability and attainability. The Association also strives to defeat legislation and regulations that negatively impact the housing market and is committed to protecting buyers and sellers to preserve the dream of homeownership.
Where do my RPAC dollars go?
Since 1969, the REALTORS® Political Action Committee (RPAC) has promoted the election of pro-REALTOR® candidates throughout the nation. In Oregon, the purpose of RPAC is clear: to support candidates and elected officials who share our values on issues significant to the real estate market – promoting homeownership, pursuing sustainable development opportunities and protecting private property rights.
How can I get involved?
As a member of the Oregon REALTORS® you have full access to our Public Policy department and we encourage your participation in our policy and political process. To learn how to become actively involved in one of our policy and political key committees, please contact our association at 800-252-9115.
Who can I contact regarding legislation?
As a member of the Oregon REALTORS® you have full access to our Public Policy department. If you have specific questions regarding legislation you can reach out to the Political Advocacy Director, Jeremy Rogers, or Chief Lobbyist Shaun Jillions.
ORPAC Trustees
Chair Debra Gisriel, EXP Realty, LLC
Vice Chair Beth Caster, Berkshire Hathaway Home Services
Stacey Boals, Coldwell Banker Pro West Ashland
Drew Coleman, Hasson Company
Carol Dozois, Berkshire Hathaway Home Services
Michael Gottlieb, Mountain View Real Estate and Property Mgmt.
Kerri Hartnett, Keller Williams Realty PDX
Dave Hemenway, Re/Max Advantage Plus
Art Kegler, American West Properties
Don Meyer, Re/Max Integrity
Colin Mullane, Full Circle Real Estate
Suzanne O'Halloran, Kohler Meyers O'Halloran, Inc.
George Perkins, 20/20 Properties
Jill Russel, Olson Group Real Estate
Eva Sanders, Meadows Group, Inc.
Adam Schwend, Coast Real Estate Professionals
Randy Shaw, Coldwell Banker Holman Premier
Patrick Sieng, Realty One Group
Greg Steiner, Harcourts West Real Estate,
Michael Warren II, Crook County Properties
Teresa Zamora, EXP Realty, LLC