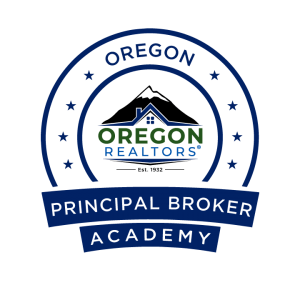 Oregon REALTORS® is excited to offer a superior educational opportunity just for Principal Brokers!
This comprehensive program is like no other. Each cohort of experienced and aspiring principal brokers is led by our cadre of highly knowledgeable Principal Brokers from around the state. During the academy, you'll deep dive into risk management, brokerage laws and regulations, business operations, brokerage policies and procedures, contract and finance best practices, liability reduction, and leadership and management strategies. 100% of attendees agree that the knowledge they gain in this academy is worth the price!
SAMPLE AGENDA:
DAY 1 - It's the Law: Risk Management
DAY 2 - Set Your Path: Business Operational Decisions, Policies and Procedures
DAY 3 - Contract and Financing Protocol: Best Practices to Reduce Vicarious Liability
DAY 4 - Management and Leadership Strategies: Fine-tune Your Coaching, Communication and Conflict Management Skills
ADDITIONAL DETAILS:
Limited to 30 participants per session
28 hours of CE
$695 for all four days (payment plan options avail.)
Includes online pre-session homework
This academy is a blended learning experience with both live, interactive sessions and asynchronous pre-work. Live sessions are either fully virtual or in-person formats.
Register for the Principal Broker Academy (Virtual or In-Person) (To find it quickly, type "Principal Broker" in "Search by Keyword" on the right, click magnifier icon.)
GRADUATION:
To graduate from the Principal Broker Academy, all participants must complete the PBA Graduation Application.